List of Directors and their Roles and Functions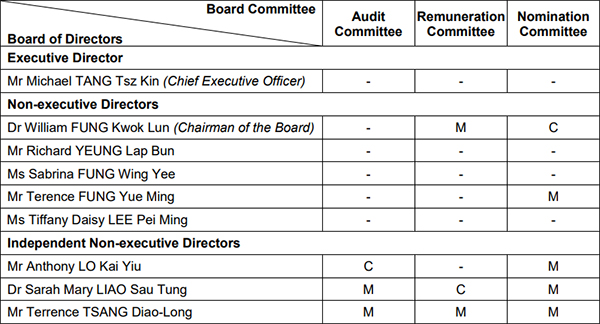 Notes:
C: Chairman of Board Committees
M: Member of Board Committees
Management
Dr William Fung Kwok Lun
Non-executive Chairman
Dr Fung, father of Mr Terence Fung Yue Ming (Non-executive Director of the Company) and uncle of Ms Sabrina Fung Wing Yee (Non-executive Director of the Company), has been a Non-executive Director of the Company since 3 January 2001 and Chairman of the Board since 26 May 2021. Dr Fung is Group Deputy Chairman of the Fung Group, a Hong Kong based multinational engaged in trading, logistics, distribution and retailing. He is also a director of the substantial shareholders of the Company, King Lun Holdings Limited, Fung Holdings (1937) Limited and Fung Retailing Limited. Dr Fung held key positions at major trade and business organisations. He is the past Chairman of the Hong Kong Exporters' Association (1989–1991), the Hong Kong Committee for the Pacific Economic Cooperation (1993–2002) and the Hong Kong General Chamber of Commerce (1994–1996). He was a Hong Kong Special Administrative Region delegate to the Chinese People's Political Consultative Conference (1998–2003). He has been awarded the Silver Bauhinia Star by the Hong Kong Government in 2008. Dr Fung graduated from Princeton University with a Bachelor of Science degree in Engineering and holds a Master's degree in Business Administration from the Harvard Graduate School of Business. He was awarded the degrees of Doctor of Business Administration, honoris causa by The Hong Kong University of Science and Technology, by The Hong Kong Polytechnic University and by Hong Kong Baptist University, and degree of Doctor of Letters, honoris causa by Wawasan Open University of Malaysia. Currently, Dr Fung is an independent non-executive director of VTech Holdings Limited, Sun Hung Kai Properties Limited and The Hongkong and Shanghai Hotels, Limited. Formerly, he was Group Non-executive Chairman of Li & Fung Limited until October 2020, and Chairman and executive director of Global Brands Group Holding Limited (in liquidation) until June 2022.

Mr Michael Tang Tsz Kin
Chief Executive Officer
Mr Tang, has over 20 years of experience in strategic development, business management and corporate finance across Greater China, Southeast Asia and Australia. Mr Tang previously served as the Managing Director at Nature's Care Holdings Pty Ltd, a leading manufacturer in health food supplements and personal care products where he was responsible for the group's expansion strategy. Formerly, he was the Managing Director at Tamar Alliance Capital Limited, an asset management company under CITIC Pacific Limited where he was responsible for principal investments and portfolio management. Prior to that, he was at Dah Chong Hong Holdings Limited ("DCH") responsible for mergers and acquisitions and operational improvement. Before DCH, he was with BlackPine Zheng He Capital Management Limited, and was responsible for inbound & outbound investments in the consumer sector. Mr Tang held various positions at PricewaterhouseCoopers Corporate Finance Limited in Hong Kong and Deloitte in Toronto, Canada. He is a qualified Chartered Accountant and Chartered Professional Accountant in Canada. Mr Tang holds a Bachelor of Administrative Commercial Studies in Finance and Accounting from the University of Western Ontario, Canada.

Mr Lai Chun Pang
Group Managing Director, Saint Honore Group
Mr Lai, is the Group Managing Director of Saint Honore. With nearly 40 years of experience in the retail chain business, Mr Lai spent ten years on the Chinese Mainland under Convenience Retail Southern China spearheading the Circle K convenience store business from 2009 to 2019, and the Saint Honore bakery chain in Guangzhou from 2009 to 2015. In his current role, he oversees Saint Honore Group's retail and manufacturing operations in Hong Kong, Macau, Shenzhen and Guangzhou. Prior to joining the Group in 1987, Mr Lai started his career as a frontline manager and merchandiser of sports apparel for Crocodile Garments Limited. Mr Lai holds a Master of Arts degree in International Business Management and a Bachelor of Arts degree in Business Studies from City University of Hong Kong.

Ms Carrina Chan Wong Man Li
Managing Director, Saint Honore Retailing Group
Mrs Chan, has over 30 years of experience in the food and beverage and retail chain industry. She is currently responsible for overseeing marketing and category, retail operations, products and site development management of Saint Honore and Mon cher brands in Hong Kong and Macau. Mrs Chan holds a Master's degree in Business Administration jointly conferred by the J.L. Kellogg Graduate School of Management, Northwestern University in the United States and The Hong Kong University of Science and Technology. She also holds a Bachelor's degree in Administrative Studies from the Trent University in Canada. Mrs Chan joined Saint Honore group in 1986 and was promoted to the position of Managing Director in 1996. She acted as the member of the Corporate Advisory Board of School of Business and Management of The Hong Kong University of Science and Technology during the period 2000 - 2009.